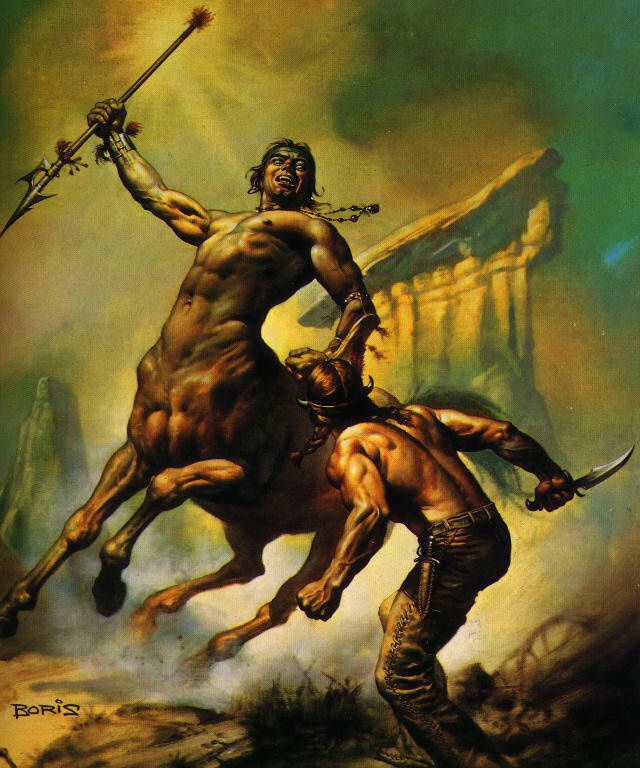 In Greek mythology, the centaurs (from Ancient Greek: Κένταυροι - Kéntauroi) are a race of creatures composed of part human and part horse. In early Attic vase-paintings, they are depicted with the torso of a human joined at the waist to the horse's withers, where the horse's neck would be.
This half-human and half-animal composition has led many writers to treat them as liminal beings, caught between the two natures, embodied in contrasted myths, both as the embodiment of untamed nature, as in their battle with the Lapiths, or conversely as teachers, like Chiron.
The centaurs were usually said to have been born of Ixion and Nephele (the cloud made in the image of Hera). Another version, however, makes them children of a certain Centaurus, who mated with the Magnesian mares. This Centaurus was either the son of Ixion and Nephele (instead of the Centaurs) or of Apollo and Stilbe, daughter of the river god Peneus. In the latter version of the story his twin brother was Lapithus, ancestor of the Lapiths, thus making the two warring peoples cousins.
Centaurs were said to have inhabited the region of Magnesia and Mount Pelion in Thessaly, Mount Pholoe in Arcadia and the Malean peninsula in southern Laconia.
The most common theory holds that the idea of centaurs came from the first reaction of a non-riding culture, as in the Minoan Aegean world, to nomads who were mounted on horses. The theory suggests that such riders would appear as half-man, half-animal (Bernal Díaz del Castillo reported that the Aztecs had this misapprehension about Spanish cavalrymen).[6] Horse taming and horseback culture arose first in the southern steppe grasslands of Central Asia, perhaps approximately in modern Kazakhstan.
The Lapith tribe of Thessaly, who were the kinsmen of the Centaurs in myth, were described as the inventors of horse-back riding by Greek writers. The Thessalian tribes also claimed their horse breeds were descended from the centaurs.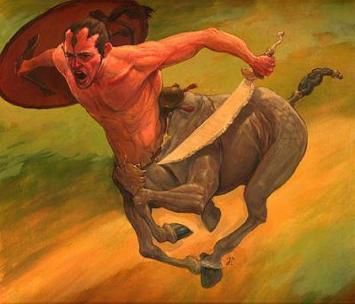 Of the various Classical Greek authors who mentioned centaurs, Pindar was the first who describes undoubtedly a combined monster.[7] Previous authors (Homer only uses words such as pheres (cf. theres, "beasts")[8] that could also mean ordinary savage men riding ordinary horses. However, contemporaneous representations of hybrid centaurs can be found in archaic Greek art.
Lucretius in his first century BC philosophical poem On the Nature of Things denied the existence of centaurs based on their differing rate of growth. He states that at three years old horses are in the prime of their life while at three humans are still little more than babies, making hybrid animals impossible.[9]
Robert Graves (relying on the work of Georges Dumezil, who in Le Probleme des Centaures and in Mitra-Varuna argued for tracing the centaurs back to the Indian gandharva), speculated that the centaurs were a dimly-remembered, pre-Hellenic fraternal earth cult who had the horse as a totem.[10] A similar theory was incorporated into Mary Renault's The Bull from the Sea.
The Greek word kentauros is generally regarded as of obscure origin.[11] The etymology from ken - tauros, "piercing bull-stickers" was a Euhemerist suggestion in Palaephatus' rationalizing text on Greek mythology, On Incredible Tales (Περὶ ἀπίστων): mounted archers from a village called Nephele eliminating a herd of bulls that were the scourge of Ixion's kingdom.[12] Another possible related etymology can be "bull-slayer".[13] Some[who?] say that the Greeks took the constellation of Centaurus, and also its name "piercing bull", from Mesopotamia, where it symbolized the god Baal who represents rain and fertility, fighting with and piercing with his horns the demon Mot who represents the summer drought. In Greece, the constellation of Centaurus was noted by Eudoxus of Cnidus in the fourth century BC and by Aratus in the third century.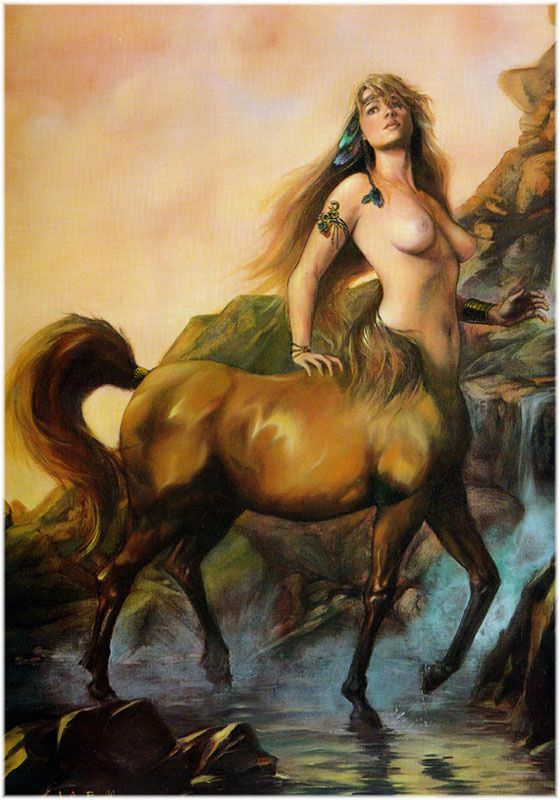 Female centaurs
Though female centaurs, called Kentaurides, are not mentioned in early Greek literature and art, they do appear occasionally in later antiquity. A Macedonian mosaic of the C4th BC[14] is one of the earliest examples of the Centauress in art. Ovid[15] also mentions a centauress named Hylonome who committed suicide when her husband Cyllarus was killed in the war with the Lapiths.
In a description of a painting in Neapolis, the Greek rhetorician Philostratus the Elder describes them as sisters and wives of the male centaurs who live on Mount Pelion with their children.
"How beautiful the Centaurides are, even where they are horses; for some grow out of white mares, others are attached to chestnut mares, and the coats of others are dappled, but they glisten like those of horses that are well cared for. There is also a white female Centaur that grows out of a black mare, and the very opposition of the colours helps to produce the united beauty of the whole."[16]
In the Disney animated film Fantasia, during the Pastoral Symphony, some of the main characters are female centaurs. However, the Disney studio called them "Centaurettes" instead of Kentaurides.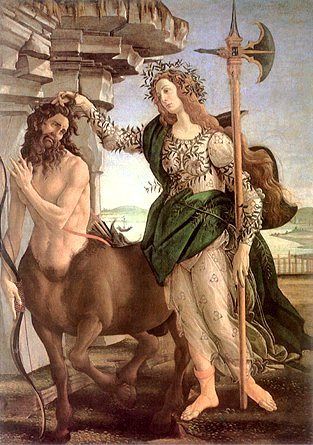 Dans la mythologie grecque, les centaures (en grec ancien Κένταυροι / Kéntauroi) sont des créatures mi-hommes mi-chevaux que l'on disait issues soit d'Ixion et de Néphélé, soit de Centauros et des juments de Magnésie.

Une étymologie ancienne fait dériver leur nom de deux mots grecs : κεντειν / kentein, « piquer », et ταυρος / tauros, « taureau ». Dans l'Iliade cependant, Homère utilise le mot φηρ / phêr, « bête » (I, 268 et II, 743) pour désigner les adversaires de Pirithoos, décrits comme de sauvages habitants des montagnes de la Thessalie. Le terme de « centaure » est réservé à Chiron, « le plus juste des centaures » (XI, 832).

Les centaures étaient décrits comme ayant la partie supérieure du corps humain, et la partie inférieure équine. Ils vivaient à l'origine sur le mont Pélion, en Thessalie. Parmi les plus connus (outre Centauros, leur ancêtre commun), on peut citer :

* Chiron ;
* Eurytion ;
* Hyléos et Rhoécos ;
* Nessos ;
* Pholos.

Les centaures du Pélion avaient pour voisins les Lapithes, dont ils descendaient par Ixion. Ils furent invités à l'occasion du mariage du roi Pirithoos (ou Pirithoüs) avec Hippodamie (tout comme Thésée), mais le banquet tourna mal : plusieurs centaures ivres, notamment Eurytion, tentèrent de violer Hippodamie et d'autres femmes Lapithes. Un combat s'engagea au cours duquel de nombreux centaures furent tués. Les autres, chassés du mont Pélion, se réfugièrent la plupart autour de Pholos sur le mont Pholoé.

Le combat contre Héraclès

Héraclès fut un temps l'hôte de Pholus tandis qu'il traquait le sanglier d'Érymanthe. Il exprima un jour le souhait de boire du vin : Pholos le prévint qu'il n'osait ouvrir la jarre à vin, qui était commune à tous les centaures. Mais sur l'insistance du héros, il s'y résolut : alors les autres centaures, sentant l'odeur du vin, devinrent furieux et se jetèrent sur Héraclès, qui en tua plusieurs et poursuivit les autres.

Mort de Chiron et dispersion des centaures

Après avoir été chassé du mont Pélion, Chiron s'était installé au cap Malée. Or les autres centaures, toujours traqués par Héraclès, parvinrent jusqu'à lui ; là, le héros utilisa ses flèches empoisonnées et en décocha une par mégarde sur Chiron, son tuteur. Celui-ci, rongé de douleurs mais ne pouvant mourir parce qu'il était immortel, obtint finalement de Zeus de mourir à la place de Prométhée.

Les rares survivants furent par la suite dispersés dans le Péloponnèse ou près d'Éleusis, avec l'aide de Poséidon qui en cacha certains.


Si l'on excepte Pholus et Chiron, tous deux « avisés » (leur parenté est d'ailleurs différente des autres), les centaures symbolisaient pour les Grecs les appétits animaux (concupiscence et ivresse en sont les traits caractériques). Ainsi le combat contre les Lapithes peut se lire comme une parabole de l'affrontement des états civilisé et sauvage.

L'origine de leur représentation est généralement expliquée ainsi : le cheval a été introduit en Grèce dès le XVIe siècle av. J.-C., mais n'était alors utilisé que comme bête d'attelage ; les centaures représenteraient, dans les légendes de l'Âge héroïque, les premiers cavaliers.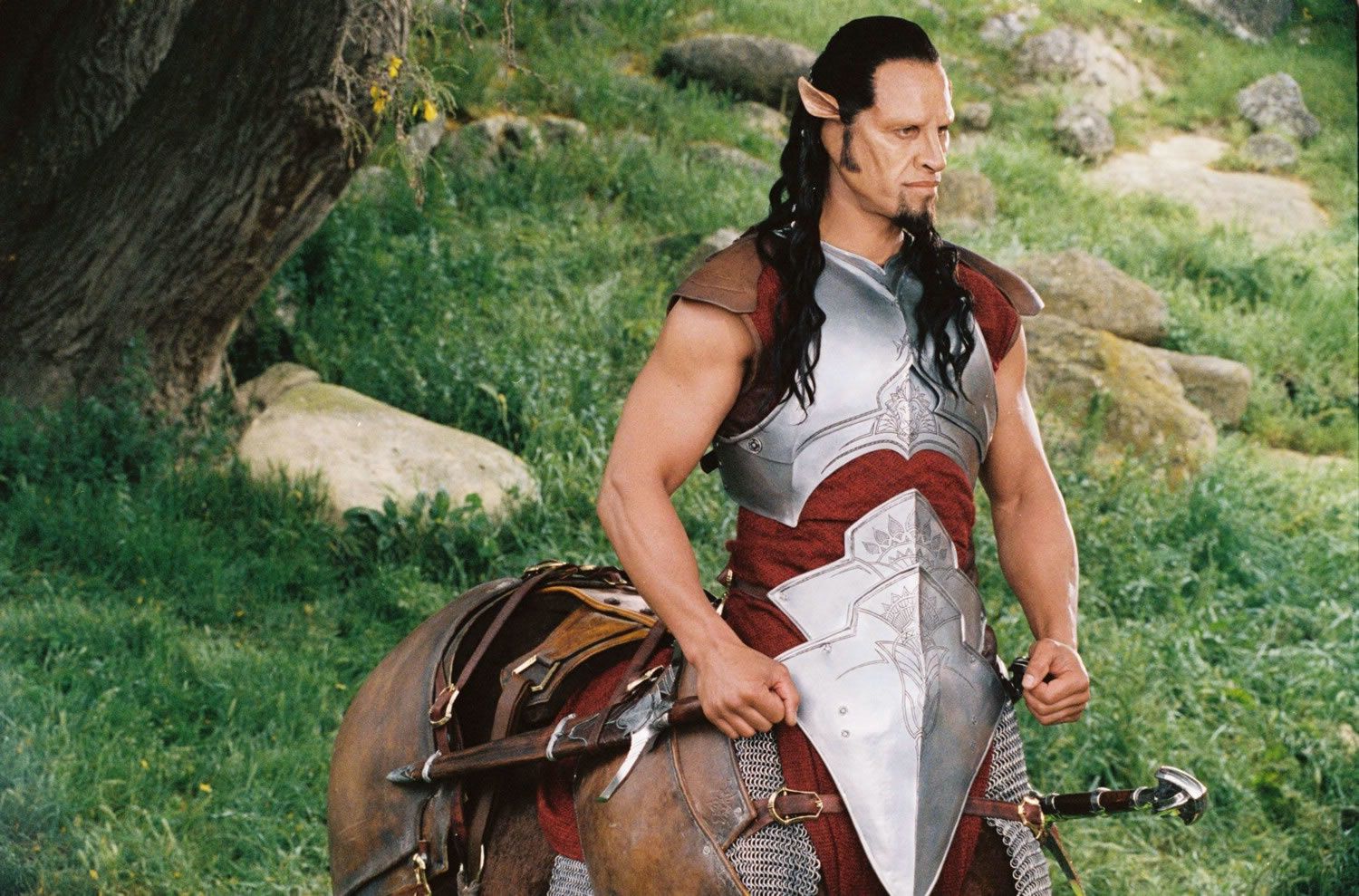 Dans Narnia, les centaures sont solitaires, majestueux, intelligents et aiment observer les étoiles et les planètes. Ils sont bons archers et bons combattants
.