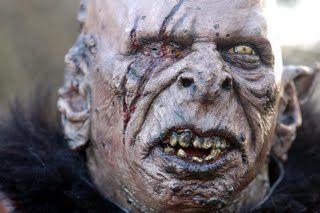 Description
In Tolkien's writings, Orcs are of human shape, of varying size but always smaller than Men, ugly, filthy, with a taste for human flesh. They are fanged, bow-legged and long-armed, and some have dark skin as if burned. In a private letter, Tolkien describes them as "squat, broad, flat-nosed, sallow-skinned, with wide mouths and slant eyes ... degraded and repulsive versions of the (to Europeans) least lovely Mongol-types".[10] They are portrayed as miserable, crafty and vicious beings.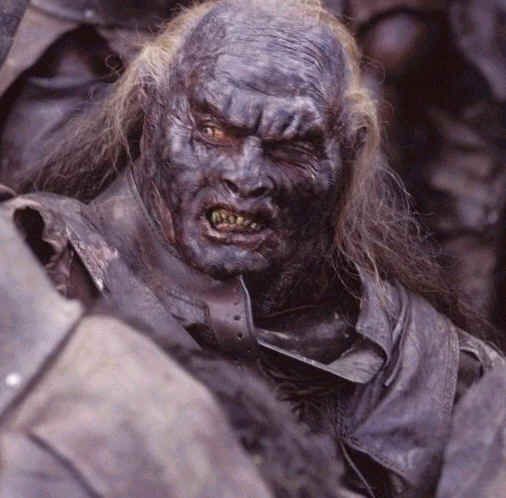 They fight with ferocity (so long as a guiding 'will' [e.g., Morgoth or Sauron] compels/directs them). In some places, Tolkien describes Orcs as mainly being battle fodder (Cf. The Battles of the Fords of Isen). Orcs are used as soldiers by both the greater and lesser villains of The Lord of the Rings — Sauron and Saruman.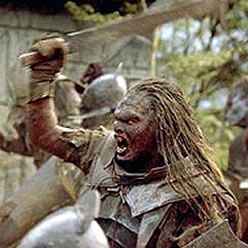 Orcs eat all manner of flesh, including human. In Chapter II of The Two Towers, Grishnákh, an Orc from Mordor, claims that the Isengard Orcs eat Orc-flesh, but whether that is true or a statement spoken in malice is uncertain; what does seem certain is that, true or false, the Orcs resent that description. However, knowing what they are like and from later events, it seems likely that Orcs do eat other Orcs. Later in The Two Towers, Merry and Pippin are presented with meat by an orc after a fight occurred in which the Uruk-hai killed several orcs; the narration is vague as to what species the flesh belongs to.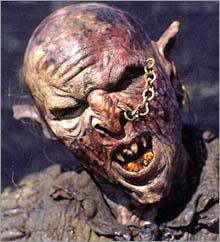 Origins
Orc Origins are first described in The Tale of Tinúviel as "foul broodlings of Melko (Melkor) [sic] who fared abroad doing his evil work". In The Fall of Gondolin Tolkien wrote that "all that race were bred by Melko (Melkor) of the subterranean heats and slime. Their hearts were of granite and their bodies deformed; foul their faces which smiled not, but their laugh that of the clash of metal, and to nothing were they more fain than to aid in the basest of the purposes of Melko."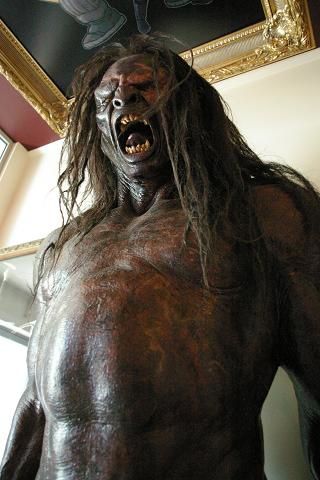 In The Silmarillion, Tolkien conceived Orcs to be Elves, enslaved by Morgoth, broken and twisted into his evil soldiers. Other versions (including notes made both early and late in Tolkien's life) have Orcs as 'parodies' or false-creations of Morgoth's that are animated solely by his evil will (or, perhaps, by his own essence diffused into each), and made intentionally to mock or spite Eru Ilúvatar's creations — the Eldar and Edain.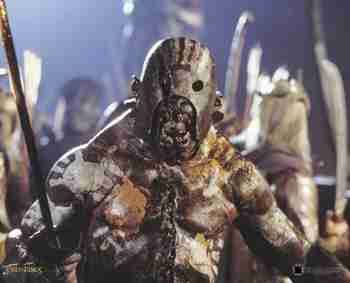 When writing The Hobbit, Tolkien carried over the concept of the "orc" that he had developed in writing early versions of The Silmarillion, just as he carried over references to Elves, Gondolin, and other elements of the Silmarillion.